Brizzly Archive
by Allex - November 3rd, 2010
Comments Off
Last month AOL made three large acquisitions: video service 5min, tech blog network Techcrunch and Thing Labs (makers of the Twitter client Brizzly).
Louis Gray reported that the Thing Labs acquisition price was $18 million with a total including earnouts of $30 million. Peter Kafka reported that the 5min acquisition was an all-cash deal valued at somewhere between $50-65 million. Most have suggested the Techcrunch sale price at between $25-40 million. (Om Malik originally broke the news of the Techcrunch acquisition.)
Assuming all three acquisition reports are correct, that would mean a total acquisition price of ($18 + 50-65 + 25-40) between $93-123 million. So assuming the lower numbers are correct, that would fall in line with today's announcement.
Update: the AOL 10-Q notes the 5min sale at $64.7 million (that's what Kafka initially reported) which leaves $32.4 million for Techcrunch and Thing Labs. If Gray is correct that Thing Labs was acquired for $18 million, that would leave $14.4 million for Techcrunch, a much lower number than the $25-40 million reported by some outlets. But the only confirmed number at this point is the 5min acquisition price so the other two are still a mystery. These amounts don't include the earnouts – much of which I assume goes to TC because it's critical that some of their staff stay on board.
AOL has released their Q3 earnings today and the announcement includes a short brief regarding the acquisitions. Total price for all three: $97.1 million plus $23.1 million in earnouts over the next three years. They were able to lump all three acquisitions together which means we may never know exactly what each acquisition price was.
Here's the bit regarding the acquisitions, "In late September 2010, we completed the acquisitions of 5Min Media, Thing Labs and TechCrunch for $97.1 million in the aggregate, net of cash acquired. In addition, we have agreed to pay an aggregate of $23.1 million in total to certain employees of the acquired companies over the next three years contingent on their future service to AOL."
by Allex - April 6th, 2010
Last week I was joking with a friend about the way I always know that Plinky is still active as a service is that I get multiple emails every week with their new "prompts". I get the multiple emails because I registered a few usernames when the service launched. For those of you that haven't used Plinky, here's their service desciption, "Plinky makes it easy for you to create inspired content. Every day we provide a prompt (i.e. a question or challenge) and you answer. We make it simple to add rich media and share your answers on Facebook, Twitter and blogs."
Sadly, I just received an email from the Plinky team that they won't be continuing the live service going forward. The current site will remain live and you can participate in current "prompts" but you won't be able to add new prompts.
You can read the full announcement on the Plinky blog. Basically the Thing Labs team, parent of Plinky, has decided to focus full time on their Twitter client named Brizzly. From the announcement, "For the last few months, Thing Labs (formerly Plinky, Inc.) has been focused on development of Brizzly, and we couldn't be happier with how things are going. As such, we've been able to spend very little time on our first product, Plinky. We've made the difficult decision to stop publishing new prompts altogether."
I was never able to get into Plinky although a lot of the people I met with over the past year said they used the service a lot to help with topics for writing. From what I can tell, Brizzly is a popular Twitter client and big with the early adopter crowd so the move seems like it makes sense. And my guess is that we might see some of the features or technology from Plinky inside Brizzly.
by Curtiss Grymala - September 7th, 2009
The other day, Holden Page from Techgeist told me I needed to check out a new service called Brizzly. At this time, the service is still in private beta, requiring invitation codes to sign up. He sent me an invite and I signed up for the service. I've checked it out over the last few days, and have really come to enjoy it. There are, however, still a few more features I'd like to see added before I make the switch from Tweetdeck.
The Good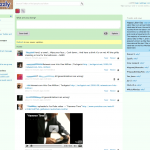 A screen shot of the brizzly service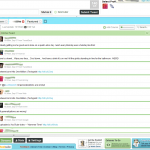 A screen shot of HootSuite in single-column mode
On the surface, the brizzly interface resembles HootSuite when you have it set up to show only one column. However, the inner workings of brizzly are actually quite different (for good and for bad) from HootSuite.
Following are some of the really nice features of brizzly:
brizzly automatically locates and displays photos and videos people link to in their tweets. For instance, Chris Brogan linked to a photograph of a broken mirror in one of his tweets. Rather than just seeing the link to YFrog, I get to see the photograph he uploaded. So far, I've confirmed that brizzly displays photos from YFrog and TwitPic and that it pulls in YouTube videos. I'm not sure what other services it pulls into your feed, yet.
brizzly also automatically resolves shortened URLs. Any time a shortened URL is posted on Twitter, brizzly automatically converts it back to the full version of the URL. For instance, Alex Wilhelm posted a link to his latest story on Techgeist within one of his tweets. On Twitter, he posted a shortened URL (http://bit.ly/LDbej), but brizzly shows me the full URL (http://techgeist.net/2009/09/retweetcom-hits-million/). Unfortunately, this feature seems to be a bit inconsistent at the moment. Sometimes the URLs are automatically resolved; other times just the shortened URLs appear.
You can "mute" specific users. If one of the tweeple you're following starts tweeting a bit too much for your likes, you can mute the person, causing their updates not to show up in your timeline.
You can save drafts of tweets, in case you decide you're not quite ready to post it, yet.
brizzly automatically shortens URLs for you using bit.ly. Simply paste a link into the tweet you're preparing, and it automatically gets shortened when you submit the tweet. As with many of the other Twitter clients that use bit.ly to shorten URLs, though, there doesn't seem to be any way to associate your shortened URLs with your own bit.ly account.
Other than those features, much of what you see in brizzly is very similar to what you'd find in many other Twitter clients. You can save specific searches on Twitter, you can follow/unfollow users when you view their updates, you can upload photos and post them on Twitter and more.
Continue reading "Brizzly – Making Twitter More Like Friendfeed" »
Become a sponsor
SPONSORS