Google Chrome Archive
by Allex - January 5th, 2011
Yesterday I provided an overview of my experience creating an app for CloudContacts in the Google Chrome Web Store. Today I'd like to share three suggestions on how Google could easily improve the usability for Google Chrome Web Store customers. My focus on usability suggestions are from the average Internet user standpoint, not from the viewpoint of an early adopter. For the Google Chrome Web Store to gain traction and a mainstream audience, it's critical that app discovery (both pre- and post-install) is the number one priority.
Web Store Categories page suggestions:
Make the links I point to in #1 (see screenshot below) clickable. Breadcrumbs should provide a way to navigate and these breadcrumbs should allow me to get back to the category page once I make a selection and click to the app page. Same goes for the left category link – once I select an app, this is no longer a link but it should be – this would allow me to get back to the utilities page. In the current setup, there's no way to get back to the category page once I select an app.
There must be a way to easily be able to view all of the apps in a category. Currently the only way to get to this view is to click the "All" button under Popular as noted in #2 below. The issue is, from a usability perspective, a user may want to view all of the apps, not only those that Google has listed as popular.
Post-install Chrome browser suggestions:
After you install an app, an icon is placed on a page you may never see — the "new tab" page. I can't seem to find any other way to find or load an app without clicking the new tab button.
Continue reading "Suggestions for Improving Usability in the Google Chrome Web Store" »
by Allex - January 4th, 2011
Over the holiday break, I decided to look into creating a CloudContacts app for placement in the Google Chrome Web Store. I'd like to share some thoughts on how the process went from both the developer and usability perspectives. I looked around at a number of the apps in the Chrome Web Store and found that many were just bookmarks to the actual website. Some apps, like the Amazon Web Shop looks like it is a full app using HTML5 which provides a pretty neat store browsing experience. Seesmic CEO Loic Le Meur confirmed that their social media app provides additional functionality when installed via the Chrome Web Store.
One note…I only have experience using the Google Chrome Web Store via the Chrome web browser. I don't have the Google Chrome OS or one of the new Google Cr-48 netbooks.
I won't go deep into the development of the app here, I will write another post later this week on HTMLCenter. The basic decision is whether you want to build an installable web app or a packaged web app.  You can also publish a Chrome Theme or an Extension inside of the Chrome Web Store. Installable web apps can be as simple as a bookmark to a website similar to what I created for CloudContacts or can be more robust as in the Seesmic and Amazon examples I noted above.
Creating the basic app is easy — just a few lines of code in a text file, an icon of your service and a zip file containing both files. You are required to pay $5 fee to "register" as a developer before you can publish any apps to the Chrome Web Store.  After you upload your app, you are taken to a control panel for the app. Here you can set items including pricing, categories, default language, detailed description of the app and other items including if the app has mature content. You can select to tie the app into a Google Analytics account and select to use OpenID for authentication. Lastly, you can upload a variety of screenshots including some promo screenshots in case Google decides to feature your app (Seesmic is one of the featured apps).
After all of the selected changes are complete, you can publish the web app to either a selected list of testers or to the world. I found the usability on this testing functionality to be lacking. Like any good developer, I decided to send the app to CloudContacts team members and to other colleagues so they can test and provide feedback. After I received a number of suggested changes, I was ready to hit the big button and make the web app live to all. Unfortunately that isn't possible. The publish button was replaced with the following text, "Publishing to test accounts will make the app available only to trusted testers you choose. You will need to create a new listing to publish your app to all users when you are done with testing." I had to manually copy over all of the elements into a new web app and then publish that app to the world.  This is just not good practice because the typical process is to move forward to production with an app that has been tested. Instead I had to just hope I copied everything over correctly.
Continue reading "My First Experience Developing An App for the Google Chrome Web Store" »
by Curtiss Grymala - June 5th, 2010
Comments Off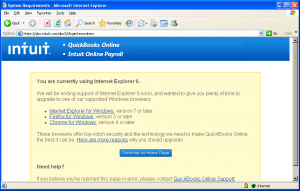 Up until a few months ago, the only way to use the Quickbooks Online interface was to do so through Internet Explorer. The interface did not work at all for people using browsers other than IE, which meant that it was wholly unavailable to Linux users and Mac users (I have no idea whether it worked on Mac's version of IE or not, but I'm fairly certain it didn't).
Then, in October, the application was updated to begin working with Firefox on Windows and Safari on Mac. This was a step in the right direction, but still didn't make the interface available to Linux users.
A few weeks ago, however, I noticed two major changes in the Quickbooks Online application. Normally, in order to enter my time into Quickbooks, I would start up Windows XP in VirtualBox, then open Internet Explorer 6 (as I keep that browser installed in my virtual version of XP for testing purposes). At that point, I was confronted with a warning message, informing me that Quickbooks would soon stop supporting IE6. Within that message, however, I found something a bit more interesting: in addition to IE7 and 8 and Firefox, Google Chrome was listed among the supported browsers. Now, the message I saw indicated that only Windows-based browsers were supported; but when I tweeted about it, someone from Intuit informed me that Mac browsers are also supported.
Continue reading "Quickbooks Online Available to the Masses" »
by Allex - June 2nd, 2010
Comments Off
NYC will host the third annual Internet Week next week. There about 150 events across the city in a wide variety of content types and parties.
If you are a developer, one event worth registering for is the Chrome Extensions Hackathon. The event will be held at the Google offices in NYC on June 10th. If you are interested in building extensions for Chrome, this is the place to be. The last Google Hackathon in NYC was centered around maps and I found it to be extremely useful as you get to speak with Google developers one-on-one for help and advice. Google Developer Programs Engineer Arne Roomann-Kurrik will be flying in from the valley to lead the event.
Register here for the event (it's free) – make sure to register soon as space is limited.
by Curtiss Grymala - June 18th, 2009
by Allen - March 10th, 2009
DivX has announceda new partnership with Google that will bring Google's consumer products to the DivX installation. The first product to be included is Google's Chrome Web browser. Financial terms of the partnership were not released.
The new deal is expected to launch in the first or second quarter of 2009 and replaces third party software previously distributed by DivX.
Yesterday I installed an update for Java from Sun and was presented with the option to install a variety of software from Microsoft. I wonder if this is new, I thought Sun was pushing Google also. Google certainly is pushing their browser – I even see ads for it on the Google homepage. For now, I am happy with my IE and FF combo.
by Allen - September 2nd, 2008
Become a sponsor
SPONSORS