internet Archive
by Allex - June 16th, 2010
Comments Off
Earlier this week, coffee house Starbucks announced that beginning July 1, 2010, WiFi will be free for any length of time at all of their U.S. locations. This is actually the second best part of Starbucks…the first being the typically-clean bathrooms. Now if they just sold other drinks and food, we'd be all set.
Chandu Thota put together a neat heat map showing all of the Starbucks locations across the U.S. and the density of free WiFi in the various locations. It looks like many of the major cities have full coverage including NYC, Chicago, Austin, San Francisco. Some areas of the country – North/South Dakota, Nebrasks, Montana, Idaho and Wyoming have only a few stores which means you might have to find free WiFi elsewhere.
Here's a sample from the map – in case you are wondering, I cut it to only show the northeastern U.S. so you have to visit the content creator to see the rest of the country.
by Allex - April 26th, 2010
Comments Off
Akamai is out today with their fourth quarter 2009 "State of the Internet" report. The report is well worth a read as it covers a variety of topics including: security, connection speeds, geography, network access, and Internet penetration. For the second consecutive quarter, the report also includes a section about moible. Some of the interesting stats include:
Globally, the percentage of connections to Akamai at narrowband (below 256 Kbps) speeds increased an unexpected 41% in the fourth quarter of 2009.
Average mobile speeds within the United States were analyzed and determined to be in the 600-800 Kbps range, while speeds across a global distribution of mobile network providers ranged from 100 Kbps to 3.2 Mbps.
The slowest countries using narrowband connections (less than 256Kbps) were Mayotte, Wallis and Futuna, Guyana, Cuba and Ethiopia.
Here are a couple of the charts from the report.
High Broadband Connectivity: Fastest International Countries
South Korea continues to lead the world in the fastest Internet connections. The U.S. didn't make the top ten – we are ranked 14th in the world for fast Internet speed. Overall Europe owns the most top 10 rankings.
Continue reading "Akamai State of the Internet Report: Q4 2009" »
by Allex - March 8th, 2010
In the old days, there were two main ways to get anywhere from Boston to Washington using public transit. Those two ways were Amtrak trains and Greyhound buses. Over the past few years, new bus services that travel along the northeast corridor have popped up including Bolt Bus and Megabus. Both of these new bus services offer very inexpensive fares and also offer free Wi-Fi service (Bolt Bus is partially owned by Greyhound). When I speak with entrepreneurs that travel anywhere from Boston to Washington, many have started to use the buses over Amtrak because of the Wi-Fi and the lower cost.
Last week Amtrak announced the launch of Wi-Fi service on their fleet of Acela Express trains.  Acela Express is the luxury, "faster" train service that runs from Boston to Washington and costs a bit more than the traditional Amtrak train service. The new Wi-Fi service is free to all travelers.
The free Wi-Fi service is also available inside the stations that Acela services including NY Penn Station and Washington Union Station. So now we have a new place to use free Wi-Fi in Penn Station!
I wonder how the Acela Wi-Fi handles travel inside the tunnels. It's great news that Amtrak is finally starting to move forward with technology on their trains. While the announcement notes that there are no firm plans to add Wi-Fi to their other trains, the sooner they add the service, the sooner they could look to potentially taking people off the buses and onto the trains. And frankly, if the service quality is good, Amtrak should charge a small fee for it. If the airlines charge, so should Amtrak.
by Yakov Sadchikov - January 11th, 2010
Comments Off
Yakov Sadchikov, President & CEO of visual search engine Quintura, has put together the following list of the top 10 CEOs of Internet companies located in Russia.
1. Arkady Volozh, CEO, Yandex (largest Russian search engine and contextual advertising provider).
2. Dmitri Grishin, CEO, Mail.ru (largest Russian online portal).
3. Alexey Basov, CEO, Begun (second largest contextual advertising provider in Russia).
4. Sergey Ryzhikov, CEO, 1C-Bitrix (leading web-site CMS vendor in Russia).
5. Alexander Lyskovsky, President, Alawar Entertainment (largest casual games developer and publisher in Russia and Eastern Europe).
6. Pierric Duthoit, CEO, WomanJournal (largest Russian women-centric online portal).
7. Nikita Sherman, CEO, Drimmi (social games company); formerly, President, Odnoklassniki.ru (leading social network); and President, Mamba (largest Russian online dating platform).
8. Natalya Kaspersky, co-founder & CEO, InfoWatch (leading data leak protection provider); co-founder & former CEO, Kaspersky Lab (internet security software vendor); angel investor, "А-я-яй.ру" (iii.ru).
9. Sergey Orlovsky, CEO, Nival Group (leading online games developer and publisher).
10. Oskar Hartmann, CEO, KupiVIP.ru (largest Russian online shopping club).
by Allex - November 14th, 2009
Comments Off
Over the past month or so, New York State has started rolling out a new lottery machine at lottery retailers around the state. The old machines were in service for (as best as I can remember) at least 15 years. I've also learned that the lottery in New York is the largest lottery in the U.S.
From a customer perspective, the new machines are faster and use less paper than the old clunkers.
The old lottery machines used a landline to connect to the main center to transmit the lottery ticket information. It appears the new machines use a Sprint wireless card for data transmission. The top retailer in the state was delayed in receiving the new machines because they couldn't get a signal underground. I was told that they were working on a new solution last weekend but haven't been back as of yet to see if they found a solution. In my discussions with lottery retailers, all noted that at least once they had issues with the wireless access. Today one top 20 retailer was unable to redeem instant tickets due to an issue with their signal. Overall the retailers I spoke with are happy with the new lottery machines.
The title of this post comes from something I heard when I was at a newsstand last week. The new lottery machines play a very loud jingle and buzzer sound when the lottery retailer scans a winning ticket. It doesn't matter if the customer won $1 or $1,000,000, the sound is exactly the same. If I remember, machines in South Carolina also play a jingle when a winning ticket is redeemed.
Continue reading "This Lottery Machine Gonna Get Someone Killed" »
by Curtiss Grymala - November 12th, 2009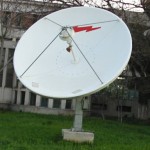 As I've mentioned a few times before, I am stuck with a satellite Internet connection at home. DSL and FIOS are distant fantasies, cable comes to the end of my driveway and stops (they refuse to run it any further, and won't let me run it myself) and a T1 line is just way out of my price range. So, I'm stuck dealing with huge latency and bottom-of-the-barrel "high speed" Internet service.
For everyone else that moves out to the boonies and might have to make the switch to a satellite provider, I thought I'd provide this quick list of five things you shouldn't (or can't) do when you're using a satellite connection. Still, I am thankful that I'm at least able to get some sort of "high speed" connection, as going back to dial-up is not something I want to even think about. Continue reading "5 Things You Shouldn't Do With a Satellite Connection" »
by Allex - October 26th, 2009
Found via FatWallet, it appears that some McDonalds locations are handing out coupons that allow you to use their WiFi service for free. The WiFi coupons are good for one hour of usage and expire in late 2010. You may need to make a purchase to obtain the coupon and some McDonalds locations offer free WiFi without a purchase. Some locations may allow AT&T customers to use the WiFi for free as well.
My guess is that this deal won't work in Manhattan as the island is typically void of any McDonalds specials. I would head into McDonalds to test the coupon if they brought back the fried apple pies. The baked ones just don't cut it.
And here's the McDonalds rap for a bit of afternoon fun:
Continue reading "Free WiFi at McDonalds via Coupon" »
Become a sponsor
SPONSORS