money Archive
by Allex - October 15th, 2010
Comments Off
I've been a rebate guy for as long as I can remember. Back in the old days before the Internet we know today, rebates were a hot mess. You purchased an item that offered a rebate, printed out all of the forms, copied the UPC codes, made your copies and send the envelope off to some PO Box. Then you waited – usually about 10, 11, 12 weeks – and after no check arrived, you called the company and were told that either the rebate was invalid or the check was sent, just wait a bit longer. Many times I had to resubmit the rebate and wait another 3-4 months for the check. The whole process was just a pain – but everyone knew that the way companies offered such great deals was to use "float" on the cash from the rebate (and that not everyone will submit the rebate offer) – so another 12 weeks delayed payment meant the company earned more on the money I was due.
In my opinion, Staples was the first large retailer to make the rebate process easier. They allow you to submit almost all of their rebate offers online which removes the delay in mailing along with the postage cost and there is no worry that Staples didn't receive the rebate. You can track the rebate online and so far I haven't had any issues with rebate payment.
What's interesting is that I am more likely to purchase an item with a rebate at Staples because I know the process will be smooth — perhaps this counter balances the "float" I noted above because more purchases are completed.
Today Staples is now offering rebate payment via PayPal. This new form of rebate payment should actually make receiving the money quicker and easier as there is no wait time for the check to arrive. This new option should help ease concerns from many rebate shoppers who note that the rebate postcards often get lost in the mail.
Staples has a short FAQ about the Paypal rebate payment option.
by Allex - September 23rd, 2010
Last December I wrote about my experience using the Blockbuster Express video kiosk that was installed in a pharmacy near my apartment. Now I live in an area where you can't seem to enter a store without seeing a Redbox video rental machine. I have seen a good number of Blockbuster Express machines here but it seems like there are at least 5-10x more Redbox machines at neighborhood stores.
As many of you are aware Blockbuster has filed for bankruptcy this week. I won't get into the bankruptcy itself here as it's better left to the financial blogs.
What I did find very interesting is how quickly Blockbuster Express contacted their customers via email to let us all know we can sleep safe knowing that Blockbuster Express is a solid company. The Blockbuster Express machines are actually NCR video machines with a Blockbuster Express logo.
Continue reading "Blockbuster Express Quick To Tell You They Ain't Blockbuster" »
by Allex - August 7th, 2010
Comments Off
Last month I left NYC and I now live in a location that requires a car. My days of taking public transport and using Zipcar are over for now. Because I drove so little and because Zipcar paid for the gas, I never had a reason to want to closely monitor my auto gasoline usage. I remember driving to Atlanta in the '90s and my first fill-up was $0.79/gallon. Those were the days!
As I've been test driving a variety of cars on dealer's lots (post coming this week), I've started to narrow the field for my eventual automobile purchase. I've spent a good deal of time browsing the community forums for each car I am interested in and I quickly noticed something in many of the user's signatures – a fuel usage badge from Fuelly.
Fuelly is a web startup that launched back in 2008 – check out Rick Turoczy's review from Fuelly's launch in August 2008. Fuelly is very simple to use – you setup your car and then report in each time you add fuel to your car. You can also report the price you paid for the fuel. Fuelly calculates the MPG (miles per gallon) used during the period and charts your usage over time.
There's a mobile app so you can report in immediately after each fill-up. That's about it – Fuelly does one thing (automobile gas monitoring) and it does it well. Sure they could add the ability to push your updates to Twitter and Facebook but not sure anyone would actually care.
I could see Fuelly partnering with Edmunds or Kelly Blue Book to provide real-world stats about gas usage.
Here's an example a user's fuel usage charts:
by Allex - July 27th, 2010
Comments Off
Sadly in just a few days Microsoft's Bing Cashback program will be closed. The doors on this awesome cash back program will be closed and locked and a sign will indicate that the program is no more. Many of us deal hunters have received some very nice amounts from Microsoft and for that we thank Steve Ballmer and crew. The Bing Cashback program had such amazing promise but sadly was executed poorly and therefore failed.
Last week I grabbed nearly $50 from Bing on my mattress purchase. So get out there and shop – here's the Bing Cashback stores list.
If you buy anything online and aren't using a coupon or a cashback site, you are throwing money away on every purchase. A simple example… Office Depot offers 10% cashback on Bing – you buy a $100 whiteboard, you score $10. You buy a ring for your significant other and you can score way more than $10. Keep the money inside your startup and use the cashback for office parties or other fun team events.
by Allex - July 8th, 2010
If you are a deal hunter, you already know about Fatwallet. I love Fatwallet because they share their affiliate commissions with you. For example, I just completed a hotel stay and received $25 back from FW for the hotel stay. Sadly, the one big merchant Fatwallet doesn't have a rev share deal with is Amazon.
Today Fatwallet announced a new earning opportunity with group buying service Groupon. The Groupon earning percentages are different than most of the other merchants listed on Fatwallet.
Groupon/Fatwallet is offering 5% cash back on any Groupon purchased by a new customer. For existing Groupon customers, the cash back percentage is 1%. So far it seems like a mixed bag of reactions by Fatwallet users. Most of the users want to see a percentage higher than 1% since most Groupon deals are at a very low cost. I'd change it to 5% for all users or offer a dollar-value coupon for new users on top of the 5% for all users.
It's good to see Groupon reaching out to the deal hunter community. I can only imagine that we will see more deal sites working with Groupon in the near future.
by Allex - June 22nd, 2010
I've been trying to use PayPal for a good while now and on my first load, I received the error message "Fatal Failure" as seen below. It looks like PayPal might be down currently. The page says nothing else besides this pretty scary error message. Refreshing the page provides me with one of three types of page loads:
"Fatal Failure" error message
A page that loads with no styles
A normal page
As many have suggested on Twitter, for a service that is basically a bank to tell you that they are currently having a "fatal failure" is probably not the best message to share with customers if there is a hiccup in service. I will wait until the all clear horn is sounded before logging in just in case.
As with all down errors, leave a comment if you are experiencing the same issue when attempting to use PayPal.
by Curtiss Grymala - June 5th, 2010
Comments Off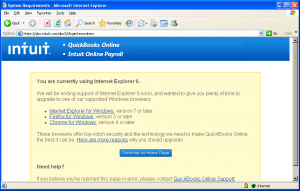 Up until a few months ago, the only way to use the Quickbooks Online interface was to do so through Internet Explorer. The interface did not work at all for people using browsers other than IE, which meant that it was wholly unavailable to Linux users and Mac users (I have no idea whether it worked on Mac's version of IE or not, but I'm fairly certain it didn't).
Then, in October, the application was updated to begin working with Firefox on Windows and Safari on Mac. This was a step in the right direction, but still didn't make the interface available to Linux users.
A few weeks ago, however, I noticed two major changes in the Quickbooks Online application. Normally, in order to enter my time into Quickbooks, I would start up Windows XP in VirtualBox, then open Internet Explorer 6 (as I keep that browser installed in my virtual version of XP for testing purposes). At that point, I was confronted with a warning message, informing me that Quickbooks would soon stop supporting IE6. Within that message, however, I found something a bit more interesting: in addition to IE7 and 8 and Firefox, Google Chrome was listed among the supported browsers. Now, the message I saw indicated that only Windows-based browsers were supported; but when I tweeted about it, someone from Intuit informed me that Mac browsers are also supported.
Continue reading "Quickbooks Online Available to the Masses" »
Become a sponsor
SPONSORS