QuickBooks Archive
by Curtiss Grymala - February 2nd, 2011
Comments Off

As a freelancer or small business, one of the biggest decisions you can make (from a business perspective, at least) is how to track your time and invoice your clients. There are a few really good options out there. Quickbooks Online seems to be a good solution, but it can get pretty expensive pretty quickly. A friend of mine recommended CurdBee, which looks like a pretty nice option, too.
My software of choice, though, is an application called Paymo. Paymo works extremely well, is easy to use, feature-rich and is extremely affordable. There are basically only two reasons you would ever pay to use Paymo. The first would be if you need to issue more than 3 invoices in a month. The other reason would be if you need to allow more than 2 users (yourself and one other) to track their time in the application.
Other than that, all of the features of Paymo are baked right into the free version of the service. The Web interface offers a timer that you can use to track exactly how much time you spend on a specific task (provided you remember to start it and stop it at the right time), easy invoicing (with the ability to print, e-mail and convert to PDF all invoices you generate) with permalinks that can be provided to clients, easy creation of new clients, new projects, new timelines and milestones and more. You can generate invoices directly from time sheets or add charges to the invoices manually.
The timer that's available through the Web interface is also available as a PC application (to be installed on your Windows machines) and as an iPhone app. The PC application is really nice, because it even tracks when you're actively using your machine. Therefore, even if you forget to stop the timer when you walk away from your computer, Paymo prompts you when you come back, asking if you want to count the time you were gone, or if you want to stop the timer whenever you stopped using your machine. The iPhone app is really handy for meetings and field visits. Continue reading "Freelancers – Do You Paymo?" »
by Curtiss Grymala - June 5th, 2010
Comments Off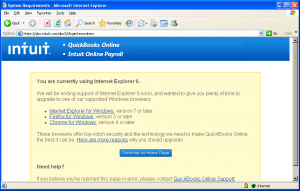 Up until a few months ago, the only way to use the Quickbooks Online interface was to do so through Internet Explorer. The interface did not work at all for people using browsers other than IE, which meant that it was wholly unavailable to Linux users and Mac users (I have no idea whether it worked on Mac's version of IE or not, but I'm fairly certain it didn't).
Then, in October, the application was updated to begin working with Firefox on Windows and Safari on Mac. This was a step in the right direction, but still didn't make the interface available to Linux users.
A few weeks ago, however, I noticed two major changes in the Quickbooks Online application. Normally, in order to enter my time into Quickbooks, I would start up Windows XP in VirtualBox, then open Internet Explorer 6 (as I keep that browser installed in my virtual version of XP for testing purposes). At that point, I was confronted with a warning message, informing me that Quickbooks would soon stop supporting IE6. Within that message, however, I found something a bit more interesting: in addition to IE7 and 8 and Firefox, Google Chrome was listed among the supported browsers. Now, the message I saw indicated that only Windows-based browsers were supported; but when I tweeted about it, someone from Intuit informed me that Mac browsers are also supported.
Continue reading "Quickbooks Online Available to the Masses" »
Become a sponsor
SPONSORS